Dr. Mark E. Shaw was recently interviewed by "Community Bridge" on Family Radio. He joins us today to reflect on some of the topics covered in that conversation.
An element of pinpointed discipleship. That's what biblical counseling for addictions really is.
Jenny Burkhiser, from Community Bridge on Family Radio, recently interviewed me on the problem of drug addiction and overdose deaths in our nation. I tried my best to bring hope to the topic as I informed the listeners that because current therapies are failing, people are seeking out help from local churches. Yes, the overdose deaths are a sad reality, but this trend of people looking for hope in the church is good news! I am finding that more and more people are open to pursuing help for their addictions within the context of a local church or ministry. Is your local church ready to help those in need of care?
We are here to help you do just that! Stepping into people's lives who are struggling with addiction—that's what those in the network of The Addiction Connection love to do, and we strive to do that within the context of a local church family.
RE-DEFINING ADDICTION
Addiction from the world's perspective is a medical issue as evidenced by the medicalized terminology used; therefore, the church's perspective for addiction has to be redefined. It's merely a return to biblical language. Our definition for addiction in The Addiction Connection is:
the persistent, habitual thoughts, words, and actions associated with excessive pleasure-seeking or escape from pain. It involves more than behaviors. It starts at the heart desire level including the way we think, how we talk, how we respond to life. Essentially, addiction is excessive pleasure-seeking that is sinful because it is not God's best for them… not God's ideal plan for them, although He allows the suffering that stems from their choices to be experienced to lead them to repentance.
We approach this issue of addiction from a heart level by helping people to see their own responsibility for their actions—which are sin according to God's revealed Word, the Bible. Why this approach? Because we want to help. Helping people to see their sin is the work of the Holy Spirit but it usually happens when the Word of God is brought to bear on their actions and lifestyle.
But why bring up sin? Because Christ is the answer for sin. His Word enables us to think differently from the world's system, as the Holy Spirit enlightens the mind about this problem of addiction, or idolatry and drunkenness, in the Bible. The ultimate goal is to see that you are responsible for your choices and that God redeems sinful man by saving mankind and leading us to faith by grace in Jesus Christ.
PHYSICAL ISSUES IN ADDICTION
So what about the physical problem associated with addiction? Can the local church really help someone struggling physically with withdrawal and tolerance? Isn't addiction a medical issue?
Typically, the people with addictive type behavior problems who approach the church for help are not currently "using" regularly. Some people might be using and still hiding it, but most of the people I encounter are approaching the church for help as a "last ditch" effort. Rarely does the church get to be the first place an addicted person is looking for help.
Yet is important to keep in mind that current users of opioids and alcohol for example are going to need close supervision by medical personnel, a detox facility, and help staying away from illicit substances in the beginning. The church often cannot offer such help, which is why we love working with medical personnel who can! We refer people in need of that care to those entities often. They can help with the medical care.
But when someone leaves those detox facilities–whether it's after 3 days, 30 days, or 180 days– we, the church, must be ready to step in to help the addicted with pin-pointed disciple-making that offers accountability and practical help. I'm talking about way more than once per week meetings. Our video curriculum Next Steps: Be TRANSFORMED can help you set up this daily accountability and practical help.
Counseling from a local church after a period of sobriety can be vital! There are several examples of extended periods of clean and sober living that somehow end up in a so-called "relapse," or return to voluntary slavery. The mental obsession of longing for an effect the drug produced returns and the biblical counselor can help with this struggle. The put-on (Eph. 4:24) of addictions biblical counseling is a blessing to emphasize for an addicted loved one. What a joy to know that an addiction does not have the power to ruin someone's life when that someone is committed to follow the Lord Jesus Christ!
The Bible has a lot to say about hope for the person struggling with addiction. Even with the devastating effects to families, children, marriages, health and safety, loss of employment… all of these things come crashing and falling down as a result of a person's persistent habitual pursuit of their pleasure of choice…. but,
God wants the addicted to call out to Him.
CONCLUSION
The hope of the Gospel is the pathway toward a new life in Christ both now and forever. If the physical aspects of addiction are overwhelming you, or someone you love, please make the decision to seek out help from a residential program with a genuinely biblical approach. You can begin your walk with Christ in a biblical disciple-making program that proclaims the Power of Jesus Christ. Begin your search on our TAC network.
Church help for addiction sounds shallow if we are thinking about going to church on Sunday for an hour, giving a tithe or offering, and going home. That is not all there is to church. I'm talking about rich relationships through small groups or community groups where we build meaningful, deep relationships with caring persons who are the people of God. I'm talking about pin-pointed disciple-making and counseling from God's Word. Being served the Word as a regular diet within the context of relationships is the power within a church family that the world lacks because it rejects the God of the Bible.
Large group preaching and teaching, small groups meeting in community, and biblical counseling should each be offering help and practical, hope- filled answers from the same source–the Word of God.
The local church has a lot to offer because we have the Word of God, the Spirit of God, and the people of God who can become your new family in Christ Jesus. There's hope today.
Listen to the entire interview with Dr. Mark E. Shaw and Jenny Burkiser here:
https://communitybridge.libsyn.com/overcoming-addiction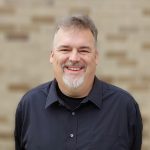 Dr. Mark E. Shaw, D.Min., CABC, ACBC, IABC, CADAC II, is the Founder and President of The Addiction Connection. He is a biblical counselor, ordained minister, speaker, and author who has been involved in counseling since the early 90s.
Dr. Shaw has taught in 8 different countries on 5 continents. He currently serves his local church full-time as the Director of Counseling at Grace Fellowship Church, Florence, Kentucky. Dr. Shaw's resources are found at Focus Publishing for discounted purchase in bulk quantities, or at amazon.com/author/markeshaw
Need Help?
The Addiction Connection offers hope and healing to those struggling with addiction. Start your search for biblical programs here.
Consider contacting one of our Commissioned Addictions Biblical Counselors who are available to help you. Explore Residential Programs and Non-Residential Programs we recommend.