Although some may find it surprising and unconventional to compare the Christian celebration of Easter to the Super Bowl, both hold enormous significance and provide unique opportunities for celebration and community-building among their respective audiences.
Comparing Easter to the Super Bowl is an analogy that describes the significance and excitement of the Easter Celebration for Christ-followers.
During the Easter season, we celebrate the death, burial, and resurrection of Jesus Christ, the Messiah. Through the shedding of His blood on the cross, He atoned for our sins. When we come to Him in faith, asking, He forgives us.
Here are some ways in which Easter can be seen as the Christian Super Bowl:
Both are highly anticipated events: As Christians around the world anticipate Easter as a time of great celebration and reflection on the death, burial, and resurrection of Jesus Messiah, sports fans similarly look forward to the annual Super Bowl with great enthusiasm and anticipation.
Both have deep traditions and rituals: Deeply rooted in Christian traditions and rituals, Easter encompasses an array of sacred events, including Holy Week, Good Friday, Easter Sunrise, and Easter services. In contrast, the Super Bowl has developed into a significant cultural phenomenon, complete with its own set of cherished rituals and traditions, including the halftime show, iconic commercials, and awarding the championship trophy.
Both inspire a sense of community: During Easter, Christ-followers gather to celebrate the resurrection of Jesus Messiah and the profound Hope His death brings. On the other hand, the Super Bowl unites individuals from all backgrounds to watch and revel in the excitement of the game.
Both represent a triumph: Easter is a time for Christians to celebrate Jesus Christ's triumph over sin and death, signifying the ultimate victory of good over evil for those who follow Christ. In the same way, the Super Bowl is the culmination of the football season signifying the apex of achievement, with the winning team earning the title of ultimate champion.
Both generate excitement and enthusiasm: Easter generates excitement and enthusiasm among Christians who celebrate, the foundation of their faith—the resurrection of Jesus Christ. The Super Bowl generates excitement and enthusiasm among sports fans.
[*Excerpt from EASTER: Meditations for Addicts*]
"Many people—not just those struggling with addictive habits—have a difficult time during the Easter season. Painful memories of family and friends who are no longer living, missed opportunities, or broken relationships can plague you during a time designed for celebration. Regret can often fill your mind, too, as you remember hurtful things you said and have done. Regret can also fill your mind because of what you failed to say or do in the past.
Holidays can also be difficult for the person struggling with an addiction who is learning to trust in God and His provision, to put away addictive desires and behaviors, and put on godly thoughts, attitudes, and behaviors.
Easter is a time to remember that God sent His only begotten Son, Jesus Messiah, to earth to live as fully God and fully man. Jesus' mission was to live a perfect life so that He could pay the price to purchase and save you from the penalty of your sins. Addiction is the result of sinful heart desires fulfilled in choices that render a person helpless and enslaved to something dangerous, but God wants so much more for you than enslavement to substances or pleasures that only harm.
For this reason, God sent His Son, Jesus, to live a sinless life on earth so that by His sacrifice, He provided you with an opportunity to be saved and later sanctified. Jesus took upon Himself not only your sin, but also the punishment and wrath of God that you, and all of us, deserve. That sacrifice fulfilled God's promise to save sinful women and men who repent[1] and place their faith in Christ alone for eternal life. Therefore, the Easter season is a gift to all believers, as well as a call for you to share the only message of Hope available to sinful man, which includes those whom the world calls the addicted.
By God's grace, you are able to receive that precious gift of salvation and experience God through the indwelling of His Holy Spirit. Salvation is not just temporal (for this life), it is eternal (for life everlasting). Only God can give such a precious gift!"
[1] Turning to God and turning away from your sin. –Dr. Howard A. Eyrich
Need help preparing for Easter?
We suggest: EASTER: Meditations for Addicts  is intended to help you to begin your Easter celebration early so you can focus your heart and reflect upon the events leading up to the death, burial, and resurrection of Jesus Christ from the dead.
Get your copy now and be ready to begin meditating your way to Easter five Sundays before Easter.
Listen to Podcasts
Dr. Mark E Shaw and I recorded several episodes on The Addiction Connection Podcast (available on all platforms and Youtube) about this devotional book. Look for podcasts #150, #151, #152, #153, #154, #155, #156, #157, and new episode of the podcast airing Feb 27, 2023.
[*] Mark E. Shaw, and Shirley Crowder, EASTER: Meditations for Addicts, Introduction. Florence, KY: The Addiction Connection, 2022.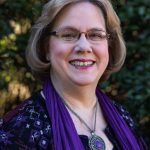 Shirley Crowder was born under a mango tree in Nigeria, West Africa, where her parents served as missionaries. Okay! She was actually born in a mission guest house under the shade of a mango tree, but that doesn't sound as exciting, does it?
Shirley is passionate about disciple-making, which is manifested in and through a myriad of ministry opportunities: biblical counseling, teaching Bible studies, writing, and music.
She is a biblical counselor and is commissioned by and serves on the national Advisory Team for The Addiction Connection. Several of her articles have appeared in "Paper Pulpit" in the Faith section of The Gadsden Times, and in Seek magazine. She also writes for Life Bible Study, Woman's Missionary Union, InspiredPrompt.com and TheAddictionConnection.org. She has authored, co-authored, or contributed to six books. She has a four-book devotional series, co-written with her Nigeria MK cousin Harriet E. Michael, that will be released over the next two years.
Shirley has spiritual children, grandchildren, and even great-grandchildren serving the Lord in various ministry and secular positions throughout the world.
Follow Shirley on: Blog, Facebook, Twitter,  Amazon
The Addiction Connection is Here for You!
The Addiction Connection is a network of ministries who offer the hope of transformed lives through Jesus Christ for anyone struggling with addiction of any kind. Our network of encouraging resources, ministries, and biblical programs that stretch across America and the world will always point people to Jesus Christ and the Word of God for answers. 
Quick Links: Training and Resources