Family Help for Addiction:
A Care Group Study
Family Help for Addiction: A Care Group Study
For the first time ever, The Addiction Connection releases a video course, complete with everything you need to start a 12-week study catered especially for the person who has addicted loved ones. Taught by Dr. Mark E. Shaw, this Group Study aims to offer biblical help and genuine hope to family members of addicts in a teaching-and-small-group format that includes weekly lessons, discussion questions, and homework so that everyone involved draws closer to Christ.
This 12-Part Online (pre-recorded) Video Series is perfect for churches, residential programs, 501c-3 organizations, and retreats. 
Instructor: Dr. Mark E. Shaw
Subscription for Remainder of Calendar Year: $137.00 (unlimited access with subscription)
Yearly Renewal (Optional): $37.00
Intended Audience: Those who have addicted loved ones.
Purpose: To offer biblical help and genuine hope to family members of addicts in a group setting. 
Resources Included with Your Purchase:
12 online video presentations (each lesson is 20-35 minutes in length)
12 participant handouts

 to accompany each video lesson (

digital download)
12 PowerPoint presentations for you, the leader, to use if you decide to teach (digital download)
A Leader's Guide Manual with a helpful video from Dr. Shaw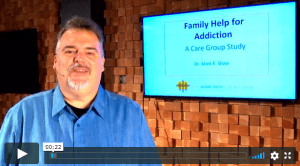 How to Structure Your Group Meeting:
There are several ways to structure your group meeting time to fit the needs of your audience.
Here's one option:
Begin with worship, an activity, or "ice-breaker"
Gather for the video lecture
Break out into small groups for discussion questions
Have some fellowship time
A Few Tips for Leaders:
As the leader, you may decide to play the videos for your audience on a screen, OR, you may decide that you would rather communicate the message to your listeners yourself. If you decide to teach, we would recommend that you watch the video lessons and preview all resources beforehand, and then utilize the PowerPoint presentations to accompany the teaching time.
At the end of every lesson, we would highly recommend breaking off into smaller groups for discussion questions. The goal is to foster intimate discussion of the biblical truths that were presented in each lesson. Special project assignments are given after each lesson to facilitate better in-depth discussions.
Participants will need to purchase two supplemental resources by Dr. Mark E. Shaw for this study, which are available from Focus Publishing for a bulk discount (1-800-91-FOCUS): Divine Intervention: Hope and Help for Families of Addicts (medium-sized book) & Understanding Temptation: The War Within Your Heart (small booklet)
This course is designed to be a disciple-making tool. In the past, some ministries have offered this course a few or more times per year. The benefit of offering this course multiple times is that disciples become disciple-makers. For example, a person may join your group for the first time as a listener and "disciple," and then the following year, this disciple has now become a leader and "disciple-maker" to others. In doing so, leaders are multiplied within the church family who can love one another well with biblical truth. Our heart at The Addiction Connection is to see disciples become disciple-makers—and this course is one way to facilitate this process.
Registration & Payment
Your access to this course is for the remainder of this calendar-year. The initial fee is $137.00 for the remainder of the current calendar year (i.e. if you buy it in August, you keep it for the remainder of the calendar year through December 31st). Every January 1st, the course expires. At this point, you have the option to renew, or lose access to the course. After expiration, you can renew for another year, here.
Overall, we believe this course will help your attendees and leaders honor God by learning how to better trust Him along a difficult journey. There are no guarantees for the addicted loved one to change, but God guarantees His children that He will accomplish His work for His own glory while growing them into Christ-likeness.
One-time, Calendar-Year Subscription: $137.00
Purchase is final and non-refundable. You are purchasing 100% digital content. After submitting the form and payment, you will receive a link to the course within 12-24 hours. Thank you for supporting the mission and ministry of The Addiction Connection!