By: Dr. Mark E. Shaw
There is no need to follow the world's example of counseling if you are a biblical counselor doing the strenuous work of addiction counseling.
What do I mean?
Traditional Counseling
The world's model of counseling pairs one counselor to work with one counselee or one family unit (such as a married couple, or maybe a family of 3). Even in group counseling, the world's pattern is to assign a group of 10-15 counselees to only one counselor. Acting as a facilitator, this leader pulls out the so-called wisdom from each participant counselee.
Flip Your Lid
But let's flip that idea on its head! Imagine if the Body of Christ deployed 10-15 church members as disciple-makers with one supervising counselor over them all. A structured plan for weekly meetings could be utilized with one counselee.
For example, imagine you are a leader in your local church and have been told that young 17-year-old Eddie is in rebellion. School is out for the summer, but he has dabbled with drugs and has been hanging out with the "wrong crowd." He is now part of the wrong crowd himself and influencing others for evil. Eddie's family is active in your local church, and you want to help him.
Spearhead a Counseling Ministry to Reach One Soul
Here is your plan. Rather than just assigning him one biblical counselor, you want to help Eddie be transformed by deploying a team of counselors to disciple him. Is one soul worth this much investment of time and energy? I say "yes."
You spearhead the counseling effort as the supervising counselor. You meet with young Eddie every other week for counseling, but in the meantime, you have assembled a team of a total of 10 persons divided into five sets of two. Set your teams up to meet with Eddie once during the 5 weekdays (one team assigned to him per day, Monday-Friday).
Young Eddie would begin meeting with each of these teams of 2 who would would cover different content with him like Trusting God by Jerry Bridges, The Heart of Addiction by Mark Shaw, Understanding Temptation by Shaw, Getting to the Heart of Friendships by Amy Baker, and of utmost importance is some sort of basic salvation set of materials by any number of authors. It would be a lot of work, but that's the type of disciple-making that happens in a residential addiction program like Redemption House in Minnesota.
Some Practical Strategies to Reach Him
The purpose of this type of team deployment to reach out to Eddie is to keep him busy as they walk through the materials with him. Some of the teams might decide to read the book aloud with him, allowing time for him to ask questions and dialogue about the material. Some might assign certain portions of reading for him to do alone, and then delve deeper into the content while present with him.
These teams of two are teaching more than they are counseling, but counseling is going to happen, and it should at times.
The Lab is Where Counselors Learn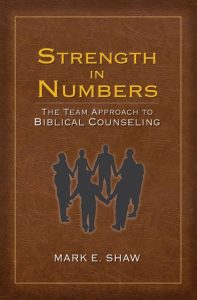 My Strength in Numbers: The Team Approach to Biblical Counseling book is often used as a companion book to Instruments in the Redeemer's Hands by Paul David Tripp because both address the basics of biblical counseling. My book focuses on the how-to portion of doing biblical counseling with a co-counselor.
I like to think of the two-person counselor model as the lab where the principles being learned from Scripture are practiced in the context of counseling. Chemistry class in college was an effective learning experience for me. I read the textbook and learned plenty of good facts, but it wasn't until I walked into the laboratory and mixed a few chemicals, that I really learned how those facts translated into real life. The same effective training can happen for biblical counseling.
Get in the lab by doing biblical counseling in your local church but with a co-counselor. Better yet, gather a team to work together with an individual. We all need support and mutual encouragement. Plus, we can better reflect the grace and truth of our Savior described in John 1:14: And the Word became flesh and dwelt among us, and we have seen his glory, glory as of the only Son from the Father, full of grace and truth. (ESV)
Two counselors, I would argue, often demonstrate the balance of grace and truth to the counselee better than just one counselor. Of course, that's debatable, but I have witnessed it play out more often than not in my decades of counseling.
The end goal is to make disciples (Matt. 28:18-20) and to offer hope and help from God's Word and by His Spirit to a hurting and lost world—one or two souls at a time because they are worth the investment!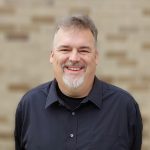 Dr. Mark E. Shaw, D.Min., CABC, ACBC, IABC, CADAC II, is the Founder and President of The Addiction Connection. He is a biblical counselor, ordained minister, speaker, and author who has been involved in counseling since the early 90s.
Dr. Shaw has taught in 8 different countries on 5 continents. He now serves his local church full-time as the Director of Counseling at Grace Fellowship Church, Florence, Kentucky. Dr. Shaw's resources are found at Focus Publishing for discounted purchase in bulk quantities, or at amazon.com/author/markeshaw
Need Help?
The Addiction Connection offers hope and healing to those struggling with addiction. Start your search for biblical programs here.
Consider contacting one of our Commissioned Addictions Biblical Counselors who are available to help you. Explore Residential Programs and Non-Residential Programs we recommend.