by TAC TEAM
If you attended the 7th annual Summit of The Addiction Connection held on August 3-5, 2023, in Cincinnati, OH, you were blessed with a God-glorifying, Christ-exalting event with like-minded brothers and sisters in Christ from around the U.S., Canada, and Mexico!
But if you missed this event, then allow us to share with you what it is like. Watch our Wrap-Up Video here for a glimpse into the Summit experience.
"It's like family."
That's a comment we often hear from attendees at our annual Summit because it is far more than a conference with speakers. Oh! We do have speakers: this year  Pastor Brad Bigney, Pastor Steve Ham, Dr. Julie Ganschow, Dr. Jim Berg, Dr. Mark Hager, Dr. Howard Eyrich, Shirley Crowder, and many more blessed us with teaching and encouragement!
We also enjoyed times of praise and worship, small group discussion meetings, and this year 24 breakout workshops were available to attendees with a variety of biblical teaching.
Our new venue at Grace and Truth Church Cincinnati offered us 18 meeting spaces to keep our small groups limited, which facilitates even more intimate discussions. That was just one aspect that helped us to create new relationships while building upon established friendships.
The Summit really does have a family atmosphere, and we love calling each other our brothers and sisters in Christ!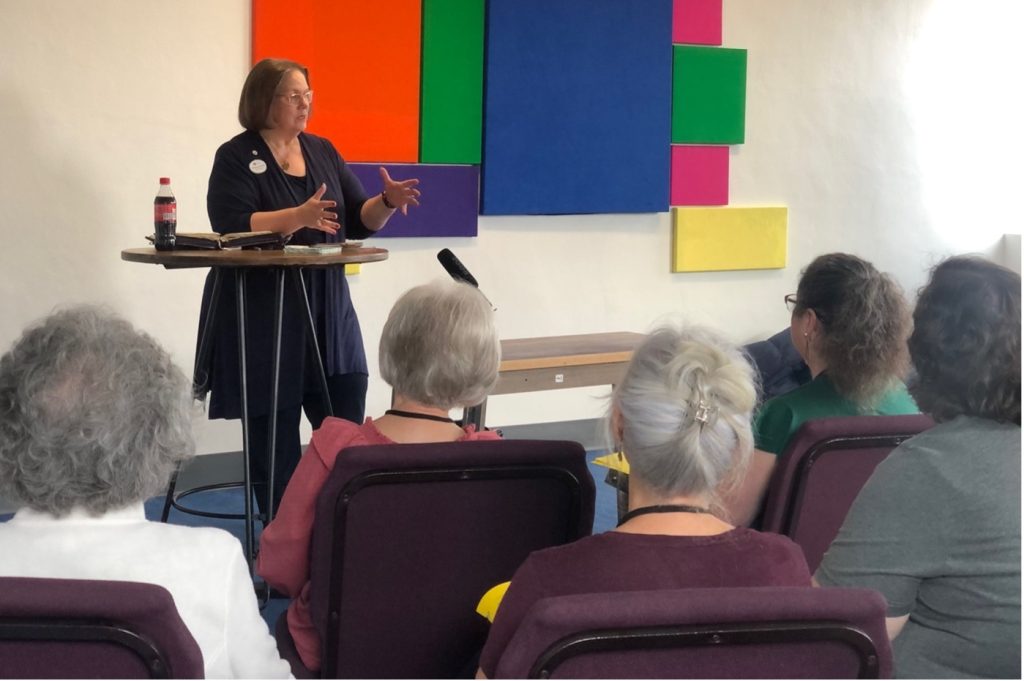 "In the midst of all the different things going on just in my different ministry areas… there really are times that we just want to throw our hands up … [in frustration and doubt] and go, "Really God?" you know? But we've got to remain steadfast. And the way we do that… is to have brothers and sisters around us who will remind us of those things!"      – Shirley Crowder, Vice President of The Addiction Connection
Look Who's Attending
If you are a biblical counselor doing the strenuous work of addiction counseling, one purpose of the Summit is for you to gain biblical knowledge and encouragement to keep doing ministry to hurting and hardened souls. This is more than just attendance at a conference. We strategically assign you to groups according to your station in ministry.
If you are a pastor, you will attend a pastors' small group for discussion.
If you are an executive director, you are often assigned to a small group of executive directors from around the world.
Female counselors meet with other female counselors for discussion of best practices and times of prayer in small groups.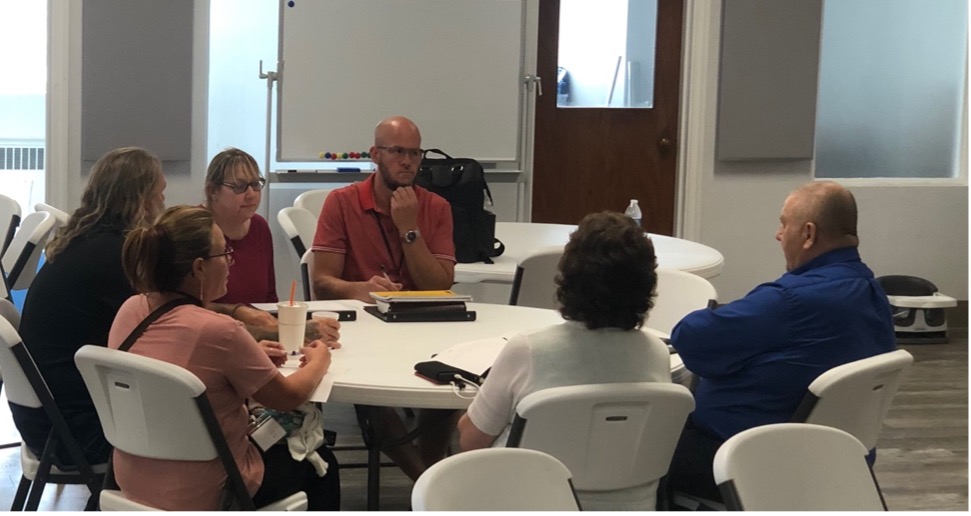 Again, the goal is for you to foster relationships with people who care about those in addiction and are in the fight to offer help and hope from Jesus Christ and His transformational Word.
"We all have ups and downs. We all have things in our lives that keep us humble and so forth, but we've got to keep Christ the main focus and keep him the center so that all these circumstances and all these trials and temptations don't cause us to get our eyes off the Lord. In other words, we're to constantly be doing the Lord's work no matter what the circumstances are, keeping our eyes on Him."
-Pam Anderson, Board Member, retired missionary to Kenya
An Immovable Message of Hope
Dr. Shaw elaborated on the unity of the Gospel message for the behaviors of addiction:
1 Corinthians 15:58  says: "Therefore, my beloved brothers, be steadfast, immovable, always abounding in the work of the Lord, knowing that in the Lord your labor is not in vain." The command here is to be immovable, and we believe that one aspect of this verse means we are to be steadfast about the message of the hope of the Gospel that the Lord has given to us. We cannot call addictive heart issues something that the Bible doesn't call them! We proclaim the wisdom of God in calling addictive heart issues a sinful desire that must be overcome by the power of Christ and the Holy Spirit working in the spiritual heart of the believer. Addiction is not a disease according to the Bible…
"Yes! That's what I love about The Addiction Connection is that we are immovable in what we believe about addiction. We want to be kind and gracious and loving, but we want to be Rock solid on what the Bible tells us about addiction issues and really about heart issues."
-Dr. Mark E. Shaw, Founder and President of The Addiction Connection
The Benefit of Encouragement from the Summit
When thinking about the temptations to become discouraged in addictions ministry, Tim Brown had this to say:
"There is discouragement that can come into our lives, but the end of the verse says, "knowing that your toil is not in vain in the Lord." That is the key—"in the LORD!" That's one of the beauties of The Summit. When we get together once a year…we see some of the fruit of addiction counseling ministry as the Lord changes people's hearts and then they start to come to the Summit. Several programs bring their men [residents from within their program] to the Summit. We get to see guys that are being ministered to right now with the message of the hope of the Gospel for the heart of addiction rather than all the rigmarole that the world has to offer."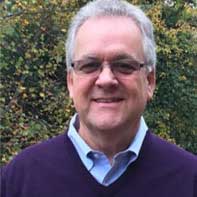 Tim added:
"So that is one of the beauties of the Summit—the camaraderie of the brother and sisterhood. This [past year's Summit], with our emphasis on the Church, we know that the Lord is never going to fail his Church. We are not out on a wing somewhere doing this ministry. The Addiction Connection is rooted in and through the local church, which is what Christ came and died for! Even though we are doing this hard ministry, and we might get discouraged, we can be steadfast and we can be immovable because we are abounding in the work of Christ and what He's done for us and for lost sinners that are just hung up in this – their sin."
People doing difficult work, with a difficult message to proclaim that is sometimes offensive to the people in need of hearing it. That is who The Addiction Connection is for. That's why this network exists. We are serving in this ministry so that people don't feel alone as they serve those in addictions.
7th Annual Summit Special Events
In addition to worship, small discussion groups, large group sessions, and relationship building, what else happened at The Addiction Connection Summit 2023?
Here are a few of the very special events that happened:
Pastor Chris Riser from Grace Community Church in Maryville, Tennessee, along with Jay Brown, shared how their church is witnessing a growing movement of transformation within the walls of a prison in their area. A man who is a prisoner at that prison is submitted to their authority and leading more men to Christ using curriculum from The Addiction Connection: Next Steps: Be TRANSFORMED; and The Heart of Addiction: A Biblical Perspective by Dr. Mark E. Shaw. This man, although he is incarcerated, is supported by his local church, and he is a part of the local church, even planting a church within the prison walls.

What a fantastic testimony of transformation in the lives of believers who are part of a local church working together to build God's Kingdom!
2. Attendees were able to watch the movie premiere of The Heart of Addiction Documentary on the first night of The Summit.
Now available for anyone to watch, this hour-long movie shares the heartbeat of The Addiction Connection and gives a glimpse into how the Lord has transformed and utilized Dr. Mark Shaw for ministry. Watch the Trailer here.
3. Breakout training sessions at Summit 2023 included everything from biblical teaching on forgiveness, spiritual gifts, helping families, and counseling a sexual sinner to several transformation testimonies of God's grace from an addictive lifestyle.
4. This year, we had a focus on some of the challenges of law enforcement from Dr. Mark Hager and District Attorney, Jeff Burkett, who shared how the local church offers hope to what the world considers a dark and hopeless problem.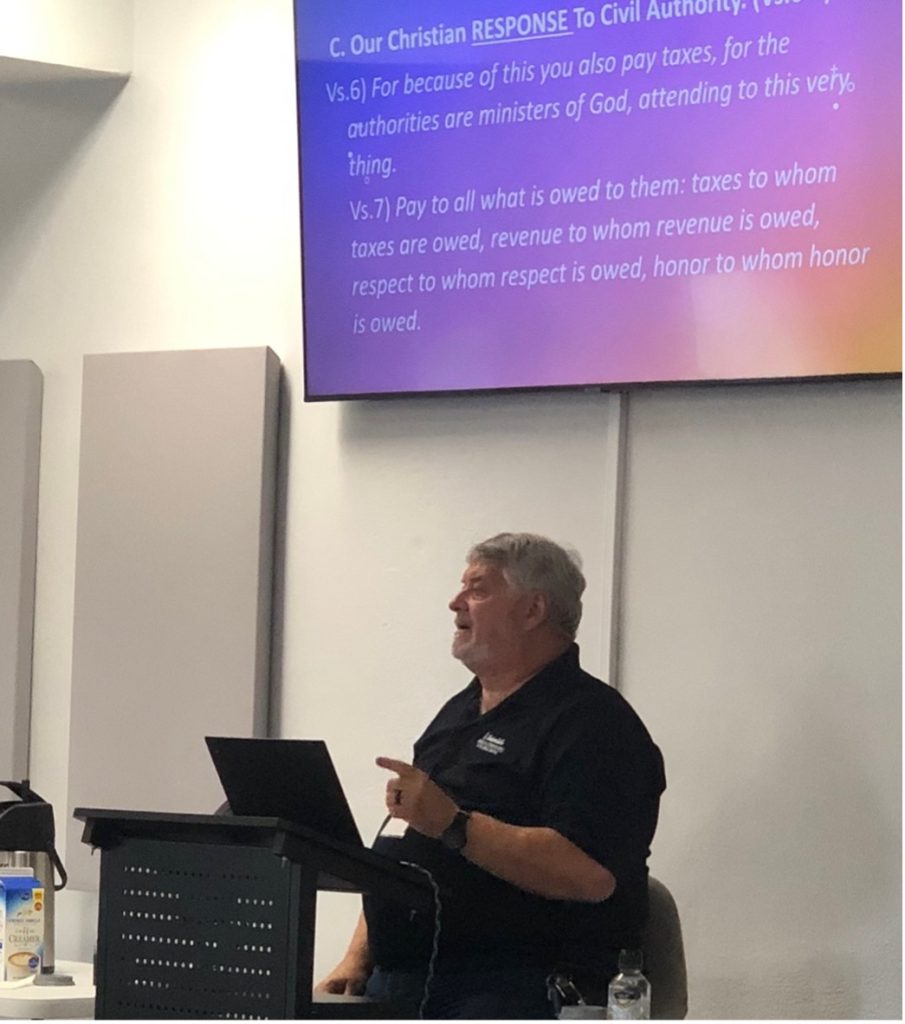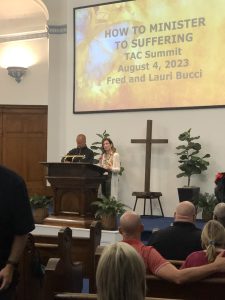 5. Fred and Lauri Bucci shared their story of suffering in the loss of their son Daniel, and they simultaneously taught us how to minister to those who are suffering.
6. Finally, we surprised our Vice President, Shirley Crowder, with a thank you video along with a couple of unique gifts for a unique servant of Christ. Thank you, Shirley, for leading so well in The Addiction Connection and sharing your gifts with so many!
Next Year's Summit
The theme for the August 1-3, 2024, Summit event is: "The Joy of Transformation." Pastors Brad Bigney and Steve Ham will be plenary speakers along with Dr. Jim Berg and Dr. Mark E. Shaw.
We are already working on the event and will have lots of information coming out over the next several months. If you want to be encouraged, meet new friends, build upon established relationships, learn the Bible better, and participate in prayer and small group discussion times, the 8th Annual Summit is one place where you will find Christ and His Church speaking the truth in love to build up the body of Christ in love.
Ephesians 4:15-16 says it best: Rather, speaking the truth in love, we are to grow up in every way into him who is the head, into Christ, from whom the whole body, joined and held together by every joint with which it is equipped, when each part is working properly, makes the body grow so that it builds itself up in love.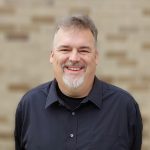 Dr. Mark E. Shaw, D.Min., CABC, ACBC, IABC, CADAC II, is the Founder and President of The Addiction Connection. He is a biblical counselor, ordained minister, speaker, and author who has been involved in counseling since the early 90s.
Dr. Shaw has taught in 8 different countries on 5 continents. He currently serves his local church full-time as the Director of Counseling at Grace Fellowship Church, Florence, Kentucky. Dr. Shaw's resources are found at Focus Publishing for discounted purchase in bulk quantities, or at amazon.com/author/markeshaw
Need Help?
The Addiction Connection offers hope and healing to those struggling with addiction. Start your search for biblical programs here.
Consider contacting one of our Commissioned Addictions Biblical Counselors who are available to help you. Explore Residential Programs and Non-Residential Programs we recommend.