Countdown to TAC Leadership Summit 2021!
When I arrive, where do I go?
Summit Check-In begins at 4:00 PM Eastern on November 4. You may park in any lot and come in through Entrance C (follow the signs in the parking lot). There, you will be greeted by a volunteer to check in.
How do I check-in?
When you come into the building through Entrance C, there will be volunteers there to help direct you to where you need to go. Please do not wander through the facilities until you have completed the following steps:
Check in and pick up your name tag. It is important that you wear the name tag at all times that you are in the facilities.
Pick up your conference notebook.
After completion of the Check-In process, you are free to go upstairs to the plenary meeting space.
Please DO NOT linger in the Check-In area. You may visit with folks upstairs.
Are meals provided?
Meals are NOT provided. We have allowed ample time in the schedule for you to visit local restaurants with your friends. Please remember to reach out to any first-timers you meet and invite them to join you!
Will there be refreshments?
Yes, we will provide bottled water and light packaged snacks for everyone. You may bring additional snacks if you desire. We will also have K-cup coffee available.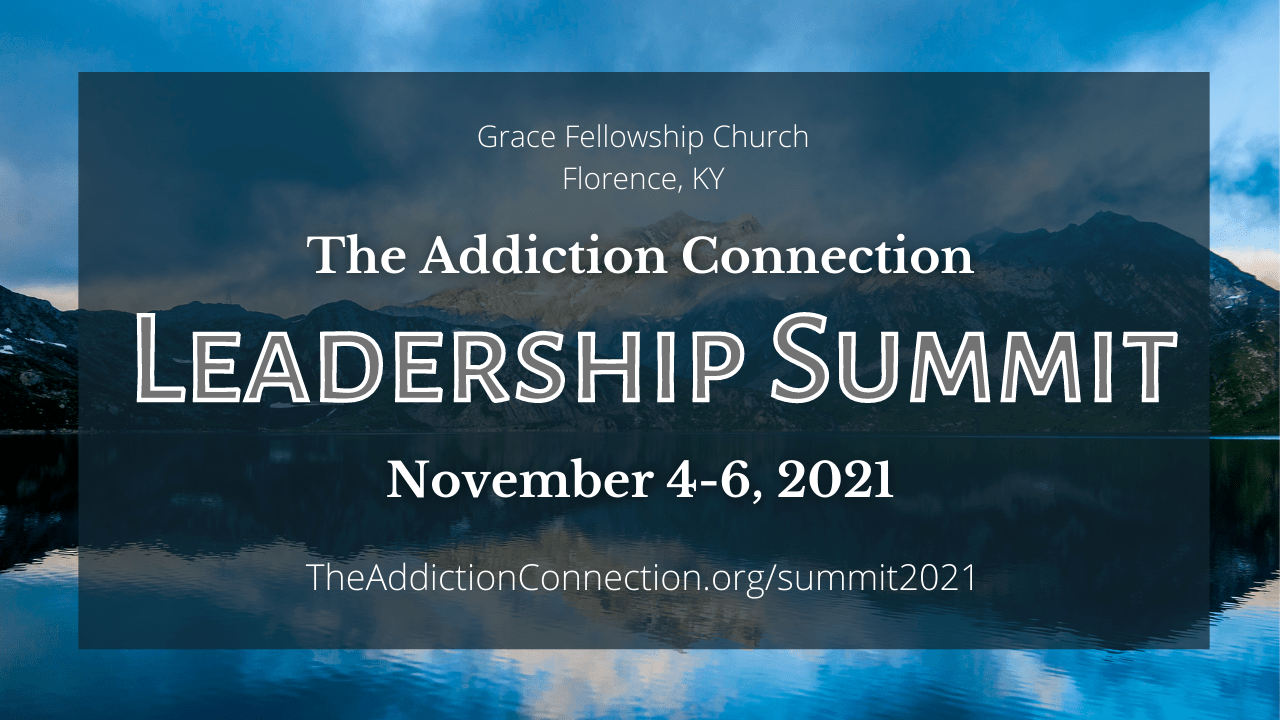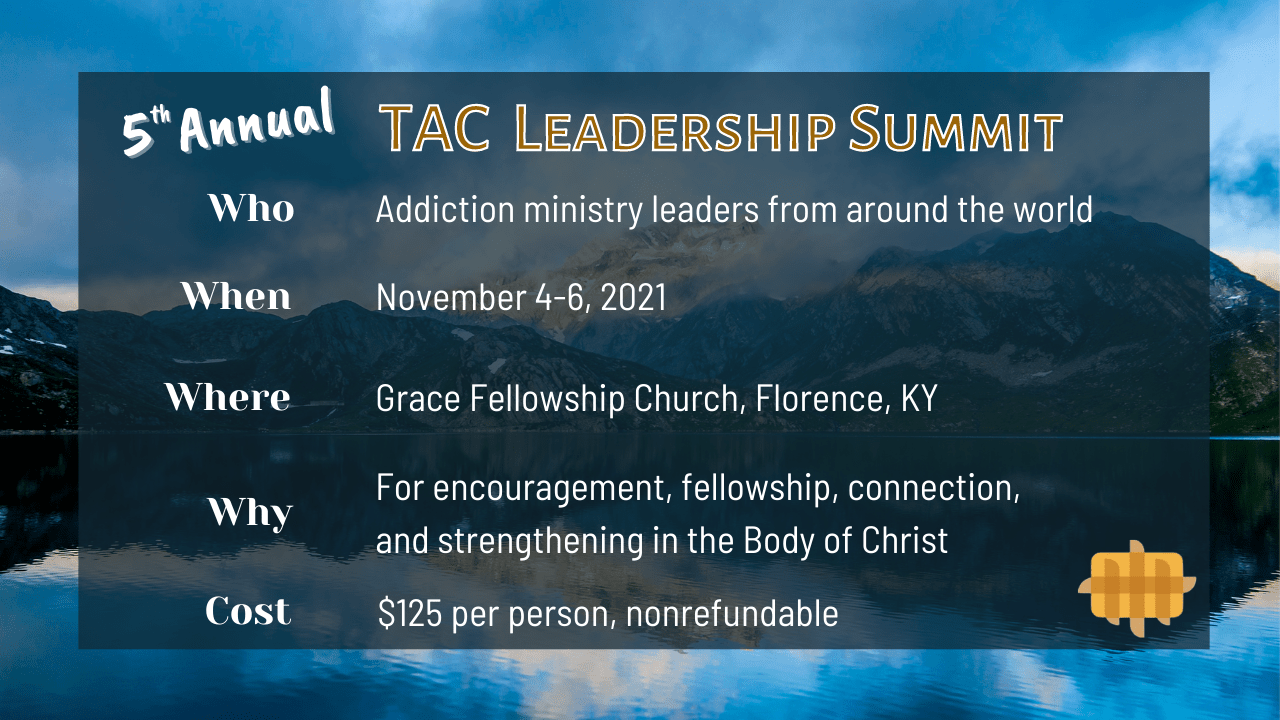 The Addiction Connection Leadership Summit
Theme: ENTHUSIASM IN ADDICTION MINISTRY
This November, we will gather as brothers and sisters who serve Christ in various roles in ministry to those struggling with addiction. Whether you're a counselor, program director, executive director, administrative staff, spouse of leader, pastor, or serve in another capacity, you're invited to attend!
What makes our Summits unique is that we want you to be involved. This event does not include training to become an addictions counselor or ACBC certified. Instead, this event is all about active connection, fellowship, and encouragement.
One way we do this is by having ample time for you to meet with your assigned Discussion Groups. In these groups, you'll have a chance to get open and honest about the struggles of addiction ministry, seek advice on best-practices, encourage one another, pray with each other, and talk about whatever it is you would like. You'll be able to meet people who live in your region and those who have similar callings. You'll likely make deep friendships, but we hope you find a deeply-rooted family through The Addiction Connection's incredible network.
In addition to Discussion Groups, we'll have time for worship, Q&As, testimonies, open mic time, giveaways, and so much more!
Our goal is to re-kindle your enthusiasm for addiction ministry while helping you get connected with Jesus and His people for an unforgettable time in Florence, Kentucky this Fall!
TENTATIVE SCHEDULE
Thursday, November 4
NOTE: Supper on your own.
4:00 PM – Registration begins
5:30 PM – First session begins
9:00 PM – End for the night
Friday, November 5
NOTE: Lunch and Supper on your own.
9:00 AM – 9:15 PM
Saturday, November 6
9:00 AM – 12:15 PM
Below is a list of hotels we recommend near Grace Fellowship Church, Florence Campus at 9379 Gunpowder Rd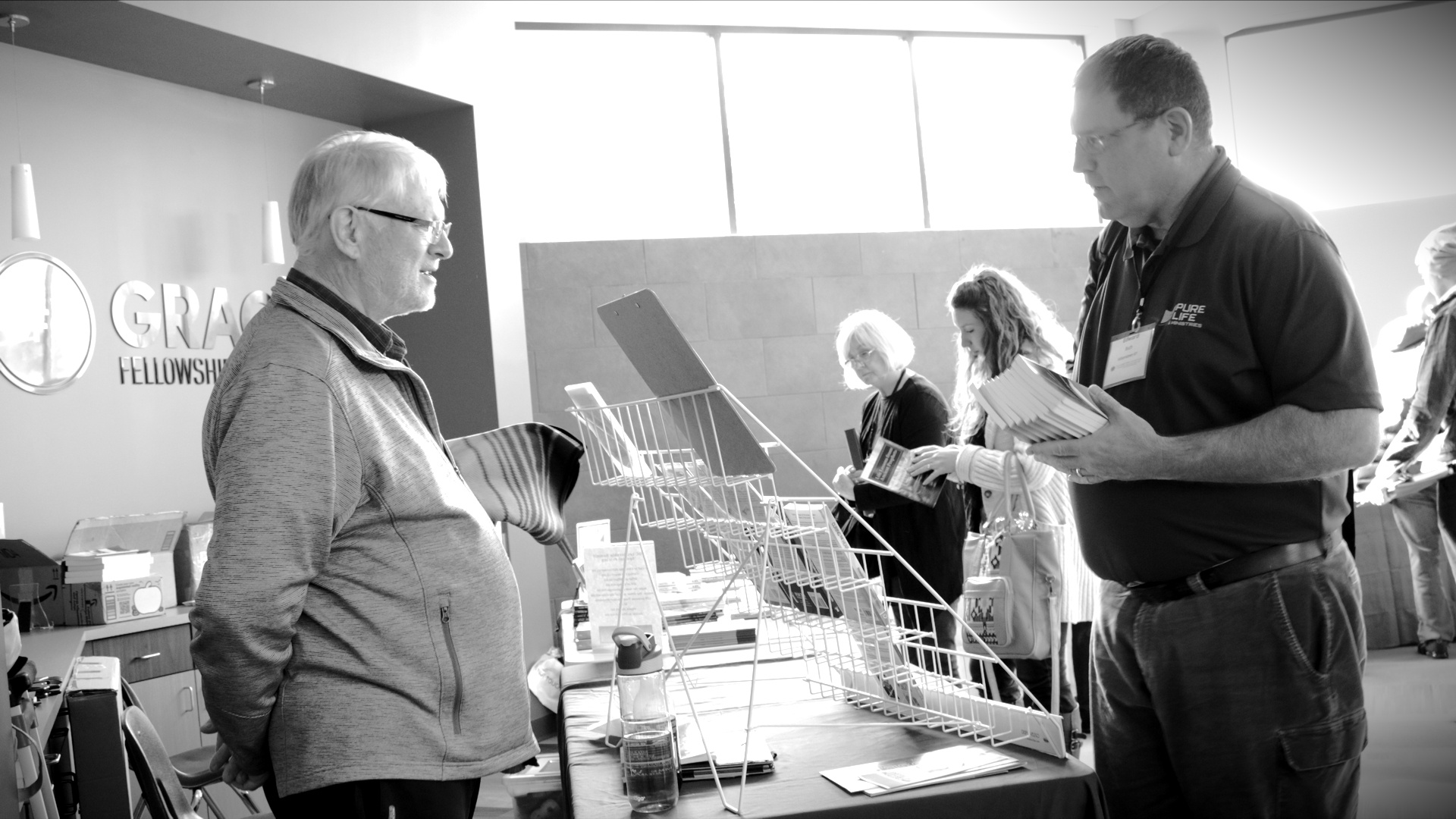 [FULL] Reserve a Display Table for Your Ministry!
We've reached full capacity for display table spaces. To be added to the waitlist, email [email protected]
To sign up more than one person, follow these instructions:
Submit the sign-up form below for each attendee, including yourself.
When the Stripe page appears asking for payment, skip payment by closing out of the window.
To pay and finalize registration for the group, fill out this form making sure to edit the quantity of tickets purchased to match the number in your party.
NOTE: For groups of 5 or more, we offer a group discount rate of 20% if the attendees serve with the same church or organization. (Enter coupon code: HEBREWS1024)
Submit your payment.
Sign Up
After sending this form, you'll be directed to Stripe for the $125.00 non-refundable, non-transferrable fee. You can also pay by donation HERE. This will complete your registration. If you have any questions, please email [email protected]
---
TAC Regions for Small Group Break-Out Sessions: