By: TAC TEAM
Transformed by Christ many years ago from a lifestyle of addictive behaviors, CJ McMurry quickly says he is not an expert on magic mushrooms. Being touted as the new cure for just about any mental or behavioral ailment, and now being sold and experimented with in microdoses, these harmful psychedelic mushrooms were the topic of a recent conversation on The Addiction Connection Podcast [episode 222 CONTROVERSIAL: Australia Approves New Treatment].
McMurry opened the conversation:
"It's intriguing. And I think it's good that we talk about it because it's out… it's becoming a popular thing again. And now again – here we go, again, [the message from experts is] 'We got a magic pill! We got a silver bullet that is gonna make everything better.'
Some who use the microdoses of psychedelic mushrooms for lifting up the mundane experiences of daily life say that the drug helps them think and feel better. But McMurry, who is the Founder and Program Director of The Refuge, in Winterset Iowa, warns us about the bizarre and dangerous behavior that accompanies the use of hallucinogenic compounds. Reflecting back to when he was still in the world of experimenting with drugs and alcohol, McMurry had this sober warning:
"…we're talking about psychedelic mushrooms! I mean back [then] the people I knew that would take them… [were] very unpredictable. You never knew what's going to happen! I mean when people hallucinate – I mean – you can see a lot of things that are not reality…" During the conversation, McMurry, so flabbergasted that he almost had a loss for words, finally added, "[Mushrooms] will lead you to do some pretty bizarre things…"
So what were some of CJ McMurry's first thoughts when he heard about this practice of using magic mushrooms in small doses as therapeutic "treatment" now?
"It was always one of those drugs that even in my "BC days"—[before Christ]— and the things that I was involved in, I was always a little bit nervous about mushrooms or acid or things like that because it seemed like with some of the other drugs or alcohol, I thought that I had a level of control. I knew when I could maybe shut it off… but with these—the psychedelics—like… you just never know what might happen when you take it. It's like a mystery. It's like, 'What's gonna happen?' And people sometimes like [that experience]. It's the excitement…I think that people are drawn to it. I was always pretty nervous about it. I mean—I was a fool—I tried a lot of things. I was always nervous. But the one time that I did take psychedelic mushrooms, I never took them again because I did not like the way I felt, and the unpredictable behavior…"
Founder and President of The Addiction Connection, Dr. Mark E. Shaw, says that this is really a "sufficiency of Scripture issue" which is what biblical counseling is all about. What did he have to say about this supposedly "new" microdosing practice… in which hallucinogenic mushroom are utilized for treatment for everything from alcoholism to depression and PTSD?
"I think about EMDR and all these extra things that people are bringing [into the counseling room]… are essentially saying, 'We need the Bible and ______ fill in the blank…' I am not opposed to helpful things like, you know, Tylenol, and ibuprofen. Those things are helpful especially after a long day of pickleball," he smiles. "But we are talking about the heart and the soul. And what do I need? I need this! (pointing to his Bible) The Scripture of God, the Holy Spirit of God working in me to change my heart attitudes my desires so that I'm all about glorifying Him, worshiping Him, living for Him, and not for myself."
Proponents of magic mushroom microdosing treatment push back at Dr. Shaw's stance and say, 'Why not just use the small, tiny doses? Let's just see if they help people who are in the throes of a deep, dark depression. With some people saying they enjoy life better while using them, what do you have against that?' Dr. Shaw had this to say:
 So, I think this added thing—this microdosing of these magic mushrooms—very tiny doses as something extra that gives me what the fruit of the Spirit [already] give me. Galatians 5 starting in verse 16 says:

"But I say, walk by the Spirit, and you will not gratify the desires of the flesh. For the desires of the flesh are against the Spirit, and the desires of the Spirit are against the flesh, for these are opposed to each other, to keep you from doing the things you want to do. But if you are led by the Spirit, you are not under the law. Now the works of the flesh are evident: sexual immorality, impurity, sensuality, idolatry, sorcery, enmity, strife, jealousy, fits of anger, rivalries, dissensions, divisions, envy, drunkenness, orgies, and things like these. I warn you, as I warned you before, that those who do such things will not inherit the kingdom of God. But the fruit of the Spirit is love, joy, peace, patience, kindness, goodness, faithfulness, gentleness, self-control; against such things there is no law. And those who belong to Christ Jesus have crucified the flesh with its passions and desires. If we live by the Spirit, let us also keep in step with the Spirit. Let us not become conceited, provoking one another, envying one another."
 Dr. Shaw explains that microdosing is just another way the world seeks desperately for a fix for the brokenness of sin and suffering in this world and in themselves. After reading Galatians 5, Dr. Shaw exclaims:
"This is what we want! This is what Christians want. This is what the world wants. We want these fruit of the spirit. The fruit of the Spirit in verses 22-23 of Galatians chapter 5 says love—we all want love! This is the good kind of love! Love, joy, peace, patience, kindness, goodness, faithfulness, gentleness, self-control, against such things there is no law. You're not going to be put in prison for being faithful or kind or good or patient or loving, you know. We won't get thrown into prison for that. Microdosing… to me… is a way to try and achieve these things apart from God. People are trying it and saying, 'It gives me joy. It helps me to feel loved and peaceful and patient. And I now enjoy doing mundane things that I don't normally like to do. And it even gives me a spiritual experience. And it might even help me with my PTSD or my depression or my anxiety and my alcohol problems. It's helping me!' And they are seeing it just as a Tylenol takes care of headaches! [Rather it is actually] something that I think competes with the sufficiency of Scripture, and of Christ, and of His Word, and His Spirit."
McMurry adds:
"We're looking for something again in a pill form that only God can truly give us to really have peace and joy in whatever it is pertaining to life. God has the answers in His Word, but… a lot of times though we're always looking for that quick fix! Again, this microdosing is just this… this temporary fix that, you know, "seems" to be acceptable in the world. But again, we're settling for the counterfeit rather than running to the one true God who has hope and help that lasts."
As the world sells this new treatment in the form of a pill, to take care of all the negative experiences in our lives, McMurry pauses and says, "Ahh… It's just the same thing. We're just packaging something else up a little different and saying, 'This is better.'"
He and Dr. Shaw are both saddened that we just keep falling for the latest trend, even in the Christian world.
"It just blows me away…" McMurry adds, "Anything and everything other than Christ and his all-sufficient word. That seems to be what the world continues to sell, and we buy into this."
McMurry particularly wants to add a warning to those in Christian circles. So, does he think Christians might be fooled by the popularizing of microdosing hallucinogens? "I wouldn't be shocked at all if people in our churches, in the biblical world, are like, "Yeah! Maybe this is okay…" So does he think Christians have already fallen for this? "I think we'd be fools to think that people aren't…" he says.
Dr. Shaw asked McMurry to respond to the correlation that is often made about marijuana becoming legal in more and more states, and because it's legal, and is it just like alcohol. CJ rises to the edge of his seat to passionately interject,
"Just because we can doesn't mean we should! Why in the world do we say, 'Well the government says, or they say…' So 'if the world says it is okay so we can do it!?' Just because it's not going to get us thrown into prison—it's legal—it's permissible. But the question is—is it beneficial—is it growing us in the truth?"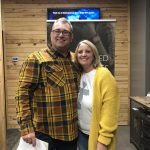 CJ McMurry, CABC, is the Founder and Program Director of The Refuge in Winterset, Iowa, and also serves the Board of The Addiction Connection and as a Regional Director. He is an Elder at Redeemer Church, Winterset, Iowa, and also leads evangelism/outreach ministries. The Refuge is a bible based Gospel centered men's residential addiction program that is offering genuinely biblical hope and help for those in the darkness of addiction. Find out more about The Refuge here. Listen to CJ McMurry's testimony of transformation from addictive lifestyle to Christ here on COUNSEL – The Addiction Connection's streaming library.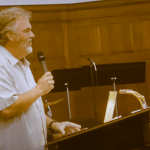 Mark E. Shaw, D.Min., CABC, ACBC, IABC, CADAC II, is the Founder and President of The Addiction Connection. He is a biblical counselor, ordained minister, speaker, and author who has been involved in counseling since the early 90s. He served in residential care and medication-assisted treatment centers (methadone), but Biblical Counseling became his passion in 2001. He pursued certification with the Association of Certified Biblical Counselors (ACBC) and seminary training (Doctor of Ministry in Biblical Counseling) to replace his secular "mixture" mindset toward why and how people change. Dr. Shaw has taught biblical counseling in 8 different countries on 5 continents. He now serves his local church full-time as the Director of Counseling at Grace Fellowship Church, Florence, Kentucky. Dr. Shaw's resources are found at Focus Publishing.
The Addiction Connection is Here for You!
The Addiction Connection is a network of ministries who offer hope in Jesus for those struggling with addiction of any kind. Our network of encouraging resources, ministries, and biblical programs that stretch across America and the world will always point people to truth in Jesus Christ for answers.
Quick Links
Sources:
Scripture quotations are from the ESV® Bible (The Holy Bible, English Standard Version®), copyright © 2001 by Crossway, a publishing ministry of Good News Publishers. Used by permission. All rights reserved. May not copy or download more than 500 consecutive verses of the ESV Bible or more than one half of any book of the ESV Bible